We have a site coordinator/cook who prepares home cooked food 5 days a week (excluding major holidays). Kitchen Volunteers are needed to assist with bagged lunches. This includes making sandwiches, salads, fruit, portioning deserts and packaging hot meals. We normally have 5-6 volunteers helping each day from 7:00am - 10:30am. You can help as little as 1 day!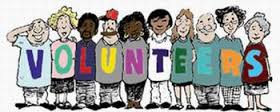 Volunteers run our program! We have a great group who generously give time and resources to help week after week. We are always looking for more people. You can help as much or as little as your time affords.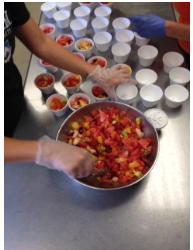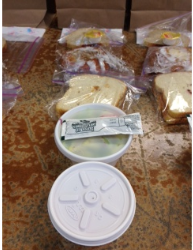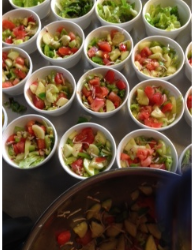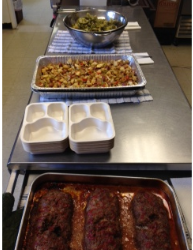 Once the meals are ready, we have a large group of volunteers who deliver everything to clients. We currently have 7 routes with 2 volunteers per route - one a driver and one a runner. That means we need 70 people a week. Volunteers arrive about 9:30am and are done delivering by 11:30am. You can help as little as 1 day!
We receive donations from a few local businesses and need volunteers to help pick up and deliver these to the kitchen. Trax Farms, Sheetz, Giant Eagle, Broughton Fire Hall, St. Joan's Catholic Church, Peter's Creek Baptist Church, Pleasant Hills Rotarry, Weiss' Meats, Trader Joe's, and the Greater Pittsburgh Food Bank currently supply us with most of our food. Please let these places know how much they help.
Organize Food Drive / Fundraising
Are you great at getting things done? Love being involved with making things happen? We are in need of people to help with food drives and fundraising ideas. South Park Library, offices at the South Park Township building and Hayes Chiropractic in Whitehall helped out with a highschool student's food drive in spring of 2015. It was a huge success! If you have ideas like this or ideas for fundraising we would love to hear from you!